Gluten Free Foodies
Celebrate the foods that you can eat!
June 20th, 2010 at 9:05 am by Lisa - Gluten Free Foodie
Happy Father's Day to my mother who has always been there in both roles
as mother and father to me!
I spent an amazing day yesterday with some fellow foodies in Yakima learning all about one of my absolute favorite foods -
cherries!
So in honor of my mom and Yakima Cherries I made
Gluten Free waffles
with almonds and perfectly ripe
Bing Cherries
...
just a little bit of syrup and non-dairy earth balance butter ...
This is a first, albeit short posting, in a series all about the "Life of a Cherry" from Yakima, WA.
Happy Father's Day! and thanks Mom!Lisa
glutenfreefoodie@gmail.com
June 15th, 2010 at 7:01 am by Lisa - Gluten Free Foodie
I am really into cereal these days. Maybe it has to do with the change of the season or the fact that it is so quick and easy to make.
If you are like me, a good Gluten Free cereal is hard to find.
I like my cereal to have good nutritional value, good protein, fiber, low fat and above all flavor.
No worries,
I recently found a cereal that allows you to pick and choose the ingredients to create your own special mix. The company is called
Custom Choice Cereal
and it is made in a dedicated Gluten Free facility. The really fun thing is that when you go to the website you literally pick the base of the cereal, add the ingredients like dried fruit, nuts or seeds. Then just before you wrap up your order
you get to name your
Custom Choice Cereal
! -
I was really creative with my
name
... I selected Cinnamon Granola made with brown rice, I added goji berries, cherries, almonds and organic coconut chips. I almost had a hard time choosing because I wanted it all. If you add more than 3 ingredients it really starts to turn into a granola or trail mix. So order one cereal breakfast mix and another that is loaded up for a trail mix. I like mine with coconut milk or dry out of the bag. It is a great way to make sure that you are getting ingredients from a dedicated gluten free facility and that is tested with the EZ Gluten testing strips. The website also has nutritional label info that updates as you add each ingredient.
How cool is that?
I had a really great conversation with Hajo Engelke, the founder of the company and was thrilled to hear that he decided to start this company for a friend from college that was Gluten Intolerant and had a hard time finding go
od, healthy cereal. The company is based out of Durham, North Carolina.
I love to hear the stories of companies that realize there is a need for better quality Gluten Free food for a friend or family member. I love to hear that there is support for us Gluten Free Foodies, that is why I support those companies.
When I purchased my cereal, I was amazed as to how quick I received it. I got it within 3 days - NC to WA! not bad! It was also fun to see your label and the sturdy resealable packaging. Very special!
Be sure to go to there web page to find out more about the company and to create your Custom Choice Cereal today. Become a fan on Facebook to get updated info on specials.
Receive a 10% discount through June 30, 2010 by using this special Gluten Free Foodies coupon code - gffoodie
Enjoy!
Lisa
June 5th, 2010 at 7:31 am by Lisa - Gluten Free Foodie
I used to love Grape Nuts and yogurt for breakfast.
Didn't you?
Well my friends, I have found that wonderfully creamy
and crunchy Gluten Free and dairy free combo again!
and
Wow! I think it is a better combo than what I remember and longed for ... little crunchy round pieces that keep their crunch until the very last bite. They have a very similar flavor to grape nuts, but no nuts. Perky's Crunchy Flax is made with sorghum, ground flax seed and sweetened with fruit juice and honey! I have tried it with various non-dairy alternatives like coconut milk, hemp milk and chocolate hazelnut milk - all very good ... but the combo with the yogurt is the perfect blend of creamy and crunchy!
So Delicious Yogurt is available in a variety of flavors including blueberry, my favorite, raspberry, vanilla and more. Look at the website for more info Turtle Mountain So Delicious.
Look for both products at your favorite Gluten Free Market or grocery store.
Light, fast and easy ... now I am ready for this sunny day but just had to quickly share this with you!
Enjoy!
Lisa
June 4th, 2010 at 8:03 am by Lisa - Gluten Free Foodie
Yes my fellow Gluten Free Foodies we have something to be happy about today ...
National Gluten Free Donut Day!
My favorite is chocolate dipped by
Kinnikinnick
especially when I have them ready to go in the freezer and just don't have time to make them.
They also have them in cinnamon sugar, maple glaze and vanilla glaze. My suggestion is to grab whatever flavor you can find because they go quickly. 30 seconds in my microwave and ahhhh ... soft, melty and oh so good ... make sure you have a good strong cup of coffee ready at the same time.
Look for them in the freezer section of your favorite Gluten Free market or grocery store.
Go eat ... Gluten Free Donuts !
Enjoy!
Lisa
May 28th, 2010 at 1:52 pm by Lisa - Gluten Free Foodie
I know it is that time of year for the annual ... soaking we get for Memorial Weekend!
It is what I like to call "SoakFest" aka
Folklife Festival
in downtown Seattle. Nothing like being in a mosh pit in the rain for 3 days!Look at it this way
... when the sun finally comes out and warms up it will be so worth it!
Right?
Well, in the meantime I have an idea that will help ease the cold winter blues at the end of May ...
Gluten Free Pizza delivered to your door from
Jet City Pizza
.
I went to the newest location in Bremerton and picked up my own. I didn't realize that it is not a dine in location, so please plan to pick it up and eat elsewhere if you are like me and not in the delivery area. The delivery area is within 15 minutes of their 6 locations including Bremerton, Wedgewood, Newcastle, Meadowdale, Kenmore and Everett.
The pizza was actually really good! The crust is thin and crispy with a buttery herb flavor. The sauce is real Italian marinara. I usually get Italian Sausage and red onion on all of my pizzas to do a fair comparison. I must say that they do not put a ton of toppings on, so if you like a lot ask for double! (Not that light toppings is a bad thing, but it is good to know.) I went back a second time to see if there was a difference of my overall experience.
Hey ... I am so there for you and want to make sure I give you good info!
Guess what? the pizza was exactly the same! I think that is so great - every time you know what to expect ...
right?
When you call in be sure to say
Gluten Free
Pizza
first and then they will explain which toppings are good for GFF. The range is $15 -$25 for a medium to large pizza.
I think the price is reasonable, I spent around $17 for a 2 topping medium pizza.
Call 360 377 4488 for the Bremerton location.
1554 NE Fairgrounds Road, Suite 1B
Better yet tell them that
Lisa - Gluten Free Foodie sent you and
get
$3 off your pizza!

Enjoy!Lisa glutenfreefoodie@gmail.com
May 22nd, 2010 at 6:15 pm by Lisa - Gluten Free Foodie
Love love this easy healthy meal!
The key ingredient is the Ginger Lemon Grass Sauce!
I use it for everything
and tonight I definitely want flavor, good healthy food that is easy and 12 minutes ... tops!
Just a few more ingredients is all you need for this meal ...
Food for Life Brown Rice Tortillas
Romaine lettuce cut in thin shreds
Heat the fish fillets on top of a baking rack in a baking pan at 425 degrees for 10 minutes, turn over after 5 minutes. This allows the fish to be heated all around the fillet and to get crispy edges.
Clean, dry and cut the Romaine lettuce.
Heat the tortilla in large pan on medium heat and turn the tortilla over after 1-2 minutes until warm to the touch.
Place the tortilla on a large plate and put the shredded lettuce in the center. Add 1-2 fish fillets and top with Ginger Lemon Grass Sauce and fresh ground black pepper.
Enjoy!
Lisa
May 10th, 2010 at 6:39 am by Lisa - Gluten Free Foodie
I just discovered a new product that is Gluten Free and Soy Free from Pacific Foods that I absolutely love! All Natural Oregon Hazelnut non-dairy beverage made with real chocolate. It is an excellent source of Calcium, Vitamin D and Riboflavin,
all really important to pay attention to when you are Celiac or Gluten Intolerant.
It is the perfect blend of real smooth rich chocolate and the full flavor of the hazelnut,
kind of like a Nuttella drink
but without the soy. Pacific uses Sunflower lecithin instead of soy! Bravo Pacific Natural Foods! They also have the orginal just Hazelnut Beverage,
but I have to confess, I haven't had it yet because I just opened the Chocolate Hazelnut and I only put it down to write
this and tell you about it! I couldn't wait
...
I am sure that if you love Hazelnuts like I do, you will love the orginal flavor too!
I am thinking about using it for all sorts of baking like a pudding or an non dairy ice cream, it would also be great to make a real Iced Coffee with Chocolate Hazelnut instead of artificial flavors ... yum! I am going to try it right now! This is a great Gluten, Casein, Soy Free option to drink by itself or to enhance your baking treats.
Enjoy!
Lisa
April 25th, 2010 at 6:22 am by Lisa - Gluten Free Foodie
This is not a fish tale!
Gluten Free
at one of my favorite restaurants -
Anthony's Pier 66 & Bell Street Diner
.
I had the pleasure to meet with Anthony's Restaurants this weekend, to sample their new Gluten Free menu. Anthony's has been serving the freshest seafood from the Pacific Northwest for 25 years. Anthony's offers a variety of "to go" eateries, casual dining and relaxed dinner houses with 19 locations throughout the Pacific Northwest.
I have enjoyed many celebrations and lunches out with friends on the deck at Bell Street in the summer. Every meal was always the best ... meals pre-Gluten Free days and I was thrilled to go back. It was like meeting an old friend again that you haven't seen in years.
I really love the space at Bell Street because every table has a great view. Just walking in the doors,
being greeted by all the staff,
seeing the new Gluten Free menu made me feel welcome.
I wanted to give everyone a big hug!
I met with
Assistant Dining Room Manager
- Jake Wheeler to ask him about the menu. My first question was - What made Anthony's decide to offer a Gluten Free menu? The answer surprised me ... the tourists asked! I had to laugh because it really struck me that Anthony's is such an icon for dining in the Seattle area and yet the tourists asked. I am just happy that someone asked and that Anthony's responded. It is really nice to see a dedicated Gluten Free menu, that is colorful and includes Seafood Snacks, Sides, Entrees and Desserts.
(It even looks like the other menus and it is laminated so it even feels real!)
The Entrees include - Barbecued Garlic Prawns with Cajun Spices, Bun Free Snake River Kobe Beef Burger, Wild Alaskan Silver Salmon with Yukon Mashed Potatoes and a Chop Chop Salad with Dungeness Crab, Bay Shrimp and Basil Vinaigrette. The perfect sweet finish - Anthony's Burnt Cream with a Crisp Caramel Top or Olympic Mountain Ice Cream or Sorbet in seasonal flavors
.
The Bell Street Diner offers a lunch and dinner menu that is the same but with different portions. The upper Anthony's offers a Gluten Free Dinner menu that includes ... Australian Lobster Tail served with Butter, Garlic Mashed Potatoes and Seasonal Vegetables ...
I should have gone for dinner ... next time!
Anthony's Gluten Free menu was created by their Executive Chef and they consulted with a nutritionist to select Gluten Free ingredients. Jake did say that they use various techniques like grilling the fish on a separate skillet that is away from other foods that may contain Gluten. Substitutions to the Gluten Free menu are not guaranteed. The Gluten Free menu has been offered for about 2 weeks and may not be available at all locations just yet. If you have a special occasion it is best to contact the location directly and ask them if they offer the Gluten Free menu. Menu selections may slightly vary according to locations and to seasons as well.
Go Gluten Free Foodies
... dine out at a real restaurant ...
Gluten Free at Anthony's Restaurants
!
Enjoy!
LisaP.S. Kudos to the Staff at Anthony's Pier 66 & Bell Street Diner!
April 14th, 2010 at 12:34 pm by Lisa - Gluten Free Foodie
Celiac Disease Foundation is assisting the FDA in seeking Participants for a Research Study on Gluten-Free Claims on Food Labels and is requesting your assistance.
The U.S. Food and Drug Administration (FDA) is seeking adults diagnosed with celiac disease or gluten-intolerance or caregivers to such individuals to participate in a research study on their grocery shopping habits. Participants will be asked to take an Internet survey, which will take approximately 10 minutes to complete.
The survey is available at
www.synovate.net/forgluten
Please contact Katherine Kosa at kkosa@rti.org or 1-800-334-8571, extension 23901, if you have any questions about the study. To request a paper copy of the survey,
please call 1-877-4GLUTN1.
April 13th, 2010 at 8:23 am by Lisa - Gluten Free Foodie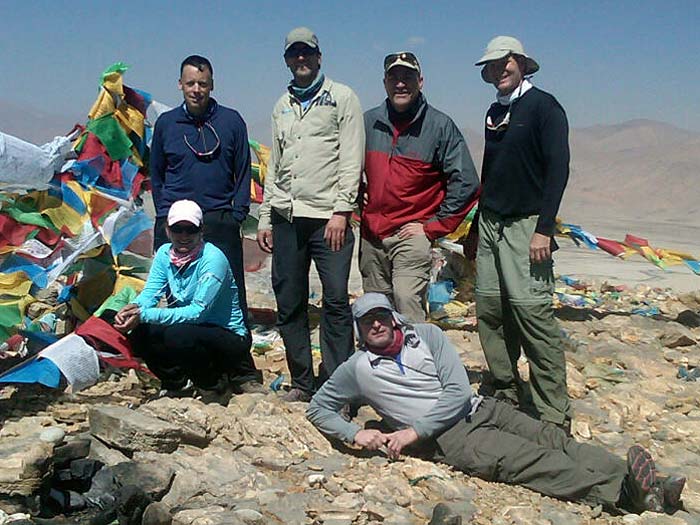 I have to say that I continue to be inspired by so many people that are living a healthy Gluten Free lifestyle.
There is one particular GFF friend -
Eric Remza, a mountain guide for
International Mountain Guides
.
Eric is living his life to the fullest right now, with his team exploring all of our earth's beauty in the mountains bordered by Tibet and Nepal. As of today they are in Tingri and getting ready to climb Cho Oyu.
I wanted to share just a few things that I learned from the
EverestNews.com
web site.
Cho Oyu, 26,906 feet (8201 meters) - the 6th highest mountain in the world.
Also known as the "Turquoise Goddess" in Tibetan, it is located at the frontier of Tibet and Nepal. Cho Oyu is part of the Himalayan Range and is 30 km west of Everest.
For more info go to
MountainGuides.com
or
EverestNews.com
web site.
In addition to all of the summits that Eric has conquered in his life he is living a Gluten Free lifestyle. I am amazed to think of all the details that go into planning such expeditions -
it boggles my mind!
Just before Eric left he reassured me that he had all of his "Gluten Free Goodies" with him and he was ready for his trip. If Eric can stick to a GF menu while climbing the world's highest mountains then so can you.
Follow Eric's blog while they climb and summit Cho Oyu
.
(The photo was taken yesterday on a ridge 15,400 feet above Tingri, from Eric's blog.)
What a great way to celebrate Earth Day
or month
!
Namaste
Eric!
Lisa