Gluten Free Foodies
Celebrate the foods that you can eat!
April 13th, 2010 at 8:23 am by Lisa - Gluten Free Foodie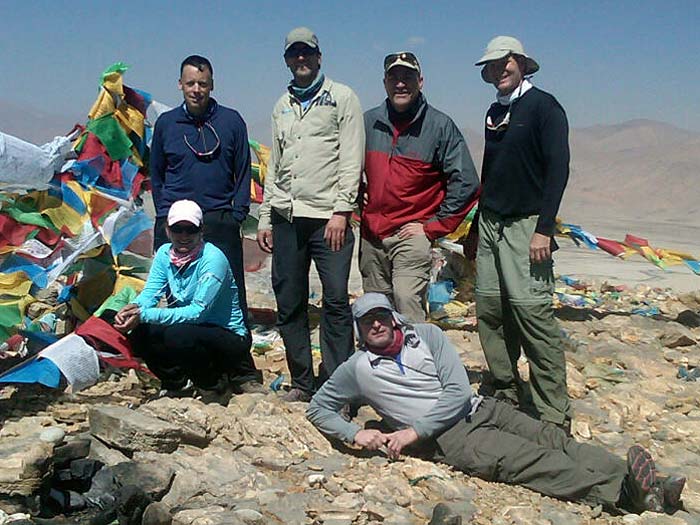 I have to say that I continue to be inspired by so many people that are living a healthy Gluten Free lifestyle.
There is one particular GFF friend -
Eric Remza, a mountain guide for
International Mountain Guides
.
Eric is living his life to the fullest right now, with his team exploring all of our earth's beauty in the mountains bordered by Tibet and Nepal. As of today they are in Tingri and getting ready to climb Cho Oyu.
I wanted to share just a few things that I learned from the
EverestNews.com
web site.
Cho Oyu, 26,906 feet (8201 meters) - the 6th highest mountain in the world.
Also known as the "Turquoise Goddess" in Tibetan, it is located at the frontier of Tibet and Nepal. Cho Oyu is part of the Himalayan Range and is 30 km west of Everest.
For more info go to
MountainGuides.com
or
EverestNews.com
web site.
In addition to all of the summits that Eric has conquered in his life he is living a Gluten Free lifestyle. I am amazed to think of all the details that go into planning such expeditions -
it boggles my mind!
Just before Eric left he reassured me that he had all of his "Gluten Free Goodies" with him and he was ready for his trip. If Eric can stick to a GF menu while climbing the world's highest mountains then so can you.
Follow Eric's blog while they climb and summit Cho Oyu
.
(The photo was taken yesterday on a ridge 15,400 feet above Tingri, from Eric's blog.)
What a great way to celebrate Earth Day
or month
!
Namaste
Eric!
Lisa
April 6th, 2010 at 7:39 am by Lisa - Gluten Free Foodie
YES!
Gluten Free Foodies can enjoy baseball and Gluten Free Food at Safeco Field!

Wahhhooo!!!!
Centerplate, the exclusive caterer for Safeco Field, is going to offer more fresh, local, healthy and YES ...
believe it or not ... affordable options
.
They have expanded the vegetarian menu featuring fresh whole fruit, vegan and organic selections and now ...
GLUTEN FREE foods - Halibut and Chips.

The concessions stand at 132 on the Main Concourse has had a makeover during the off season and is now also featuring a "healthier" menu offering organic and vegetarian options including - smoothies and
Gluten Free "Kind Plus" snack bars.


There are other items mentioned like hand cut fries by Kennebec Potatoes
, but it did not say if the fryers are dedicated Gluten Free.
Please make sure that you ask and read everything before you consume any food that you don't make
but at least the people at Safeco Field and the Mariners are more aware about Gluten Free Foodies like us! THANK YOU !!!
You can read more about this exciting news on the King 5 News web site
http://www.king5.com/sports/baseball/New-menu-items-at-Safeco-Field-89948472.html
Play Ball!!!!
Lisa
glutenfreefoodie@gmail.com
P.S.
The photo of the delicious Halibut & Chips with a crisp green salad is my photo of a meal that I enjoy at home!
The Halibut is from
Star-Fish Foods
and can be found at your local grocery and specialty markets.
Enjoy!
April 2nd, 2010 at 12:45 pm by Lisa - Gluten Free Foodie
Now this is a Gluten Free candy that the Easter Bunny will be happy to hide for the kiddos this Easter.
Surf Sweets
Organic Jelly Beans, Gummy Bears and Gummy Worms.
Naturally sweetened with fresh fruit flavors, NO Corn Syrup or GMO's (yippee!), Gluten and Casein Free, Vegetarian and made in a nut free facility... ( yippee yippee yippee!)
I am a big fan of the flavor that these little guys pack! Extra soft and just enough sweet. Check out their web site for more flavors and
store locations
-look in the upper right side of the web site to click and search for store locations near your zip code. If you are close to a Whole Foods, PCC, Pharmaca you should be able to find them to help out our busy Easter Bunny friend!
Happy Easter!
Lisa
glutenfreefoodie@gmail.com
April 1st, 2010 at 6:34 pm by Lisa - Gluten Free Foodie
April is Autism Awareness month and I thought that I would make a Gluten Free treat to show my support -
A Blue Autism Speaks puzzle piece
... out of a rice crispy treat!
ok ... a little abstract ...
Did you know that Autism affects
1 in 110 children and 1 in 70 boys ?
Autism Speaks
-
Light It Up Blue
campaign is raising awareness about Autism all month asking everyone to show their support by wearing BLUE tomorrow, updating their status pages and just being creative and involved in the community. Look at the website for more info for events in your area.
There are events happening all over North America from the Empire State building to the CN Tower in Toronto, Canada on Friday, April 2.
So I thought I would try, key word here is try, to be creative and make a BLUE RICE CRISPY TREAT, Gluten Free of course!
I made the Rice Crispy Treat out of Erewhon Rice Twice cereal, Jet Puffed Cream Marshmallow and some
India Tree Vegetable Colorants
. It was messy and a lot of fun!
Now it is your turn!
What Blue Food will you make to show your support?
Take a picture and send it to me and I will post it on this blog!
March 31st, 2010 at 10:10 am by Lisa - Gluten Free Foodie
Feel the need to change the view and eat some delicious Gluten Free Food?
Time for a road trip to Portland, Oregon. This is the first in a series of places to check out and taste your way throughout the city.
Corbett Fish House
is owned by Dana and Greg Boyce located at 5901 SW Corbett -503.246.4434
/div>
They offer a Gluten Free menu with all of your fried seafood favorites coated in Rice Flour.
The sauces, dressing and desserts are also Gluten Free! Yippee!!!
We ordered the Tugboat Combo to have 2 bits of everything -
Walleye, Halibut, Oysters, and Chile-Fried Catfish with awesome french fries and Jalapeno Tarter sauce to dip and devour! I want that sauce! It was cooked to perfection and a nice way to share and sample. We also ordered a cup of soup each - Crab Pepper Cheese and New England Clam Chowder - both were absolutely amazing and makes me want to either move down to Portland or make them move closer to me ... now there's an idea ... after you eat at Corbett's you will say the same thing. I think we should start a petition to get them to open a location in the Seattle area. Hey ... is anyone else offering GLUTEN FREE SEAFOOD FAVORITES??? send them an email at dana@corbettfishhouse.com and let them know that we welcome them in the Seattle area.
Dana and Greg also have an additional location called
Hawthorne Fish House
- 4343 SE Hawthorne - 503.548.4434
I didn't get a chance to check this location out but I hear it is awesome as well.
More of Gluten Free Getaway - Portland to follow ...
Enjoy!
Lisa
Gluten Free Foodie
glutenfreefoodie@gmail.com
March 24th, 2010 at 6:09 pm by Lisa - Gluten Free Foodie
It is Spring and time for baseball, hot dogs (aka hot dawgs)... and lots of good grilling!
Our weather has been absolutely gorgeous in the Pacific Northwest.
I couldn't wait any longer ...
At least I was thinking and got a picture of it before I dove in ... I know it isn't the traditional look but it was bun bustin' ... the flavor and softness of the bun ... perfect!
 The shape of the bun may not be hot dog shape but after making a few alterations, I want to tell you this was the best dawg!
The Hot Dogs are MSG and Gluten Free
and even say so on the package!!!
Bravo Hempler's and I can't wait for
Opening Day for the Mariners!!!
Play Ball ...
Enjoy!
Lisa
March 17th, 2010 at 8:38 am by Lisa - Gluten Free Foodie
Well, they are green and they are from the McClure family so ... I think they are Irish! You may also want to kiss someone after you eat them because they will make you pucker!
McClure's Pickles
swim in a jar of vinegar with whole cloves of garlic and dill. These Pickles are packed with flavor. They also make relish and Bloody Mary mix. I have only tried the Pickles after finding them at
Williams-Sonoma
. They are the perfect pairing with any Gluten Free entree - hamburgers, hot dogs, and sandwiches - corned beef or not!
Apparently Ted Allen from the Food Network said that the McClure's Pickles were one of his favorites and has given the McClure boys a bit-o-business. Be patient my friends they will have more soon!
Happy St. Paddy's Day ... eat Irish Pickles today!
March 14th, 2010 at 8:19 am by Lisa - Gluten Free Foodie
In honor of
NATIONAL CHIP DAY
.... I thought I would share the many, many ways that I love my
GLUTEN FREE CHIPS!
One of my fondest memories of my childhood back in the 70's was the day that we would get our delivery of Charles Chips! YES, I said DELIVERY OF CHARLES CHIPS!!!
I think this is how my passion with chips started. This prized possession that you see here is actually a 1 lb. Charles Chips Tin that the chips were delivered in back in the day. They were one of the original companies that believed in recycling because they would deliver their chips and pretzels in tins. Maybe it was the fact that it protected the chips from breaking but I like to think it was a brilliant idea to market them in tins. They are collectors items now!
The tins were available in various sizes, I think up to 10 lbs. at least. Each delivery time the company would pick up an empty tin and drop off a new one with fresh chips and pretzels, or whatever your order was at that time. Talk about spoiled! I didn't realize how good life was then ... actually I did because every time I opened a fresh delivery ... it was like a prize in the tin ... I would fish out my favorite chips ... I like the folded ones ... but don't tell anyone ... please!
Total and ultimate salty, crunchy bliss!

So how do you like your chips?
Mike's Four Star BBQ Pork on a freshly made Old Mill Chip ... with Carolina Sauce!
A must have with A HOT DOG AND FIXINS'
(all Gluten Free of course ...)
Always with some sort of sandwich ... sometimes inside like a PBJ ... but now I guess I call it a ABJ - almond butter with jelly! Equally satisfying ...
As a healthy (low salt) snack ... anytime ... any place!
March 7th, 2010 at 9:16 am by Lisa - Gluten Free Foodie
So the "IN" thing right now is to have a garden to grow your own produce and herbs. But what do you do if you are like me and (let's face it), you don't have a green thumb?
No worries!
I have the perfect answer and it is green, sustainable, supports our local farmers
in Snoqualmie Valley. They cultivate over 50 crops and over 200 varieties of produce on 400 acres. After 12 years and still growing, Full Circle Farm (aka FCF) is now expanding their Farm to You home delivery program to Alaska and throughout Washington.
There are several options to support Full Circle Farm - Farmers Markets, Community Pick Up and Home Delivery. The other great thing is that they also work with over a dozen other farmers in the Pacific Northwest to provide us with the freshest organic ingredients to make any Gluten Free Foodie even happier and healthier. They even work with a farm in Hawaii that grows
several varieties of ginger
which we all know is very good for healthy digestion! FCF also offers additional items besides produce - Grounds for Change Coffee, Theo Chocolates
(Yes, one of my favorite soy free Chocolates delivered to me ... bliss!)
, free range eggs from Steibrs Farm and the newest addition from Port Townsend, WA -
Mt. Townsend Creamery
and their absolutely deliciously creamy ... Fromage Blanc! I love it on top of a lovely ripe pear or apple ...
to die for cheese!
The best news is that they are now adding community pick up sites in Kitsap County and their home delivery program. So if you live in the Bremerton, Silverdale, Indianola, Poulsbo, Kingston and Bainbridge Island area you can now support Full Circle Farm too!
Check them out via the link or the image of the
Full Circle Farm
Organic produce box on the right sidebar of my blog. FYI - I do not get paid for their link, I just really believe in this farm and their efforts to grow their business, organically!
You can also follow FCF on Facebook for the latest news! Become a Fan! I am!
In the words of my Organic buddy Dave ...
peas out!
Lisa
March 3rd, 2010 at 4:54 pm by Lisa - Gluten Free Foodie
Garlic Jim's Famous Gourmet Pizza
Gluten-Free Pizza Frequently Asked Questions

1. How does Garlic Jim's protect against cross-contamination?

Garlic Jim's has specific procedures in place to protect against cross-contamination. We store our gluten-free (GF) crusts in a separate place in our walk-in coolers and sauce them using dedicated spoodles (combination spoon/ladle) and dedicated sauce containers. We place a GF crust on a dedicated GF screen and use GF peels and cutters to remove the pizza from the oven and cut it prior to delivery or pickup. We also use separate towels to clean our GF pizza cutters to ensure that there is no cross-contamination.

Further, we slap our regular pizzas in a GF flour mix so all the flour flying around in our stores is actually GF.

Our staff is trained to wash their hands before beginning the preparation of a GF pizza and to use special care not to bring the GF crusts into contact with anything that might lead to cross-contamination.

2. How important is the Gluten Free Food Service Accreditation from the Gluten Intolerance Group?

The Gluten Free Food Service Accreditation from the Gluten Intolerance Group is very important because it validates our efforts to maintain an environment free from cross-contamination and assures our valuable gluten-free customers that we are a safe place to enjoy pizza.

3. How many pizza chains have obtained this certification?

As of December 2009, Garlic Jim's Famous Gourmet Pizza was the only pizza chain to receive Gluten Free Food Service Accreditation from the Gluten Intolerance Group of North America.

4. What about all the flour I see flying around the store and on aprons, etc.?

All the flour flying around the store and being used to slap our regular pizzas is actually gluten-free. It's a special mix made for Garlic Jim's that consists of rice and corn meal.

5. What are the ingredients of Garlic Jim's gluten-free pizza crust?

Rice flour, tapioca flour, water, potato flour, potato flakes, olive oil, sugar, yeast, salt and seasonings.



6. Is there soy in the gluten-free crust?

There is no soy in our gluten-free pizza crust.


7. Are there dairy products in the gluten-free crust?

There are no dairy products in our gluten-free pizza crust.

8. Are there nuts in the gluten-free crust?

There are no nuts in our gluten-free pizza crust. However, one of our specialty pizzas uses cashew nuts as an ingredient (the Nutty Chipotle).

9. Does Garlic Jim's maintain a nut-free environment in its stores?

One of our specialty pizzas (the Nutty Chipotle) uses cashew nuts as an ingredient. We try to minimize any cross-contamination but cannot guarantee that there will not be contact with cashew nuts.

10. Is the gluten-free crust vegan?

Garlic Jim's gluten-free crust is vegan as it contains no animal products or by-products.

11. Are Garlic Jim's toppings all gluten-free?

All of Garlic Jim's toppings are gluten-free.

12. Are Garlic Jim's sauces all gluten-free?

Garlic Jim's sauces are gluten-free with one exception. Our Garlic Basil sauce DOES contain gluten and therefore our Jim's Garlic Chicken Pizza is not gluten-free unless it is made without the Garlic Basil sauce.

13. What other Garlic Jim's menu items are gluten-free?

Garlic Jim's BBQ wings, Ribs, Gourmet Cheesecake and certain flavors of Haagen-Dazs ice cream are all gluten-free.

14. Is there a coating on the BBQ wings and if so, what is used instead of wheat?

Our BBQ wings are glazed with: pepper sauce (aged cayenne pepper, vinegar, salt), soybean oil, water, nonfat dry milk, xanthan gum and propylene glycol alginate. They do contain SOY and MILK.

15. Are there plans for more gluten-free products?

We are always looking for gluten-free products to add to our menu and welcome suggestions from our customers.
This was sent to me by one of my local Gluten Free Foodies. She had some specific concerns, questions and contacted the company. She forwarded the information above from the company.
Thanks,
Lisa